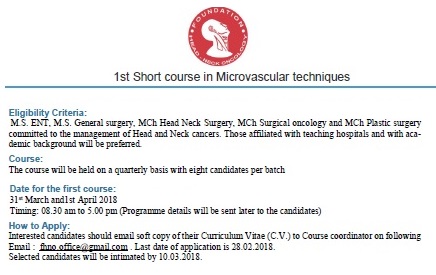 The Federation for Head and Neck Oncology announces the first Hands on Microvascular course exclusively for its members. This two-day program will allow interested participants to gain insights in microvascular techniques. It is intended for surgeons who wish to start or assist microvascular free flap reconstruction at their center.
Background:
Proficiency in free flap reconstruction is necessary to offer state of the art treatment for head neck cancers. To achieve good cosmetic results and better quality of life, it is imperative to have a trained microvascular surgeon as a part of the operative team. This short course aims at introducing basic microvascular techniques to the head and neck surgeon. It will be beneficial for individuals who want to start free flap reconstruction or want to assist their microvascular surgeon
How to Apply:
Interested candidates should email soft copy of their Curriculum Vitae (C.V.) to Course coordinator on following Email : fhno.office@gmail.com . Last date of application is 28.02.2018.Selected candidates will be intimated by 10.03.2018.
Selection Process:
Applications will be screened. Eight candidates fulfilling the eligibility criteria will be selected on first cum first serve basis. All correspondence with the applicant will be done through email only.
Application Fee:
A nominal fee of Rs 1000 will be charged for the course payable to Foundation for Head and Neck Oncology (FHNO) by demand draft
Travel, Boarding & Lodging:
Participants should make their own travel and stay arrangements.